I already know the road all too well. Lead me not into temptation, I can find it all by myself. -Lori White
I totally apologize for not updating with my card yesterday. I had unexpected company last night, and I spent the morning cleaning. Then J and I went outside before lunch. At this point I'm still thinking I could get on the blog at nap time. After I walked the dog and took a shower I fell asleep. My parents dropped in on the way to a last minute out of town wedding. We went out to dinner, they spent the night and left early this morning to go to the wedding extravaganza. That's how they roll.

But my parents gave me this for Easter, etc. OMG, these are so good. I have no affiliation whatsoever with Harry & David other than a satisfied customer (although I don't think I could ever have enough):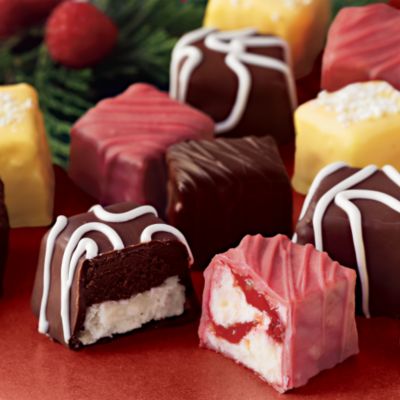 The lemon was so good, the raspberry amazing, the milk chocolate heaven! And I couldn't tell you about the dark chocolate, dh ate them all.
J has a new obsession at the moment, he is into all things medicine. The dog has lots of medicine, so we have to talk about that. He still points to his Advil high up on the shelf in his room even though his cold has been gone for nearly two weeks. Every night before he goes to bed he points to the shelf and starts "mengee". All d's are g's. Doggie is gee. Dad is Ga. Window is wingee. Anyway, still talking about the advil. So, now all I can think about is whether I should sample this Advil and see what they put in it that makes him crave it day and night. But then I suspect that it probably tastes like skittles and that will only ignite my fire for the rest of the Easter candy. Is it just me or is there a lot of sugar in this post?

Just finished up two layouts for the GDT, hope to share them Monday barring any bizarre happenings around here. I got Breaking Dawn from Amazon yesterday, it's calling my name. I've hide it from myself until the end of the month, I have lots I want to do until then. Here is my Mom's birthday card (and it is just so her too.):
Birthday Card
Supplies:
Cosmo Cricket Girl Friday
Patterned paper: Saturday; Cosmo Cricket Girl Friday Rub-ons; plus white bazzil cardstock and black pilot pen.
Instructions: Print text via computer. Apply Girl Friday rub-ons. Draw in bee path with black pilot pen and add the bottom of the "y". Trace edges of paper. Add patterned paper as shown. Simple. 
Have a great weekend! Until tomorrow.