We've been trying to settle into a routine here, and with all the illness we have had with preschool, I'm afraid it's just not working. Been hanging on for dear life some days, just trying to remember to feed the dog and pack a lunch. Unable to stay up much past the time J goes to bed, and that's really putting a cramp in my scrapbooking and blogging here lately.
Some developments:
1. I decided to stay on with Cocoa Daisy for another term and I couldn't be more excited about that. These kits are the best at getting me out of a scrapbooking rut and I'm currently waiting on this one to arrive: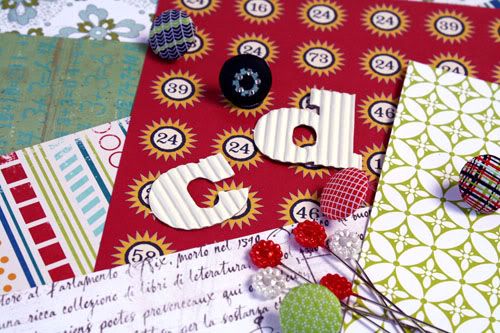 It's called Brighter skies, and it will be available for purchase midnight August 27th I believe. We are working on having a more defined reveal date so that everyone on the site knows what to expect. We also have some new Divas including Debee Campos, Lisa Saunders and one still yet to be revealed. I love that loyal members as well as bigger name talent all have equal opportunity to be guest designers and on the design team there.
2. It's Christmas in August here. I finally opened my new photo printer, as I finally ran out of ink for the old one. It came with new software that is really fun to play with. It makes me want to try my hand at digital, but I know I could never give up the smell of new paper.
3. Waiting for it to finally cool down here, end of summer long dog days are making me long for the pumpkin patch and the cool crisp air. I'm a fall girl, I love every single thing about it. Also waiting for temp to drop so I can spend some time in the garage, can't even think of organizing it in this heat. I keep asking J about what he wants to be for halloween, is that bad?
4. Loving my yard, with the little bit of rain we have had the grass is much greener. Not as good as it will be in the fall, but a vast improvement over the scorched look of summer.
5. Listening to: Sara Bareilles (any of her songs on vevo) and Jon Meyers "Half of my heart" (love, love that one!)
6. Reading about Primary Biliary Cirrhosis. It's a liver disease. It's part of my CME this month.
Happy Monday to you! Until tomorrow.